Trying to find a path from starting point A to a destination B is omnipresent in daily life. Since there are often many routes leading from A to B (not only to Rome), it is usually also important to determine a certain criterion (route length, traveling time, road quality, landmarks, cost, etc.) in order to find the optimal path [more... Finding the shortest path with a distance evaluation is one of the classical algorithms. An elegant solution was given in 1959 by the famous computer scientist EW Dijkstra.].
In your program, we will simply focus on the basics. Therefore, you choose a local network with only 6 places that you can regard as subway stations in a fictional city. The nodes of the graph are identified by the names of the stations. (The first letters of these names are A, B, C, D, E, F, so the stations could also be identified with these letters or with node numbers.) The indication of the neighboring stations is an allocation of a station name to a list of of names, which is why a dictionary with the station name as a key and the list of the neighboring stations as a value is perfectly suited for this. Instead of using a function getNeighbours(), you directly use a dictionary neighbours.
The distance between the stations are also stored analogously in a dictionary distances that has the two connected stations as a key and the distance as a value.
In order to enter these stations into a GameGrid, you still need a dictionary locations with the locations (x, y coordinates) of the stations.
The central part of your program is an exact replication of the backtracking algorithm used above. In addition, you need some auxiliary functions to represent it graphically.
| | | |
| --- | --- | --- |
| You use an entry dialog for the user input and write the outputs to a status bar. Furthermore, you draw the optimal path in the graph of stations. | | |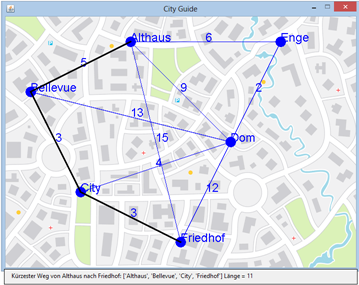 from

 gamegrid 

import

 *

neighbours = {
    

'Althaus'

:[

'Bellevue'

, 

'Dom'

, 

'Enge'

, 

'Friedhof'

], 
    

'Bellevue'

:[

'Althaus'

, 

'City'

, 

'Dom'

], 
    

'City'

:[

'Bellevue'

, 

'Dom'

, 

'Friedhof'

], 
    

'Dom'

:[

'Althaus'

, 

'Bellevue'

, 

'City'

, 

'Enge'

, 

'Friedhof'

], 
    

'Enge'

:[

'Althaus'

, 

'Dom'

], 
    

'Friedhof'

:[

'Althaus'

, 

'City'

, 

'Dom'

]}

distances = {
   (

'Althaus'

, 

'Bellevue'

):5, (

'Althaus'

, 

'Dom'

):9, 
   (

'Althaus'

, 

'Enge'

):6, (

'Althaus'

, 

'Friedhof'

):15,
   (

'Bellevue'

, 

'City'

):3, (

'Bellevue'

, 

'Dom'

):13, 
   (

'City'

, 

'Dom'

):4, (

'City'

, 

'Friedhof'

):3, 
   (

'Dom'

, 

'Enge'

):2, (

'Dom'

, 

'Friedhof'

):12}

locations = {
    

'Althaus'

:Location(2, 0), 
    

'Bellevue'

:Location(0, 1), 
    

'City'

:Location(1, 3), 
    

'Dom'

:Location(4, 2), 
    

'Enge'

:Location(5, 0), 
    

'Friedhof'

:Location(3, 4)}



def

 getNeighbourDistance(station1, station2):
    

if

 station1 < station2:
        

return

 distances[(station1, station2)]
    

return

 distances[(station2, station1)]



def

 totalDistance(li):
    count = 0
    

for

 i 

in

 range(len(li) - 1):
        count += getNeighbourDistance(li[i], li[i + 1])
    

return

 count



def

 drawGraph():
    getBg().clear()
    getBg().setPaintColor(Color.blue)
    

for

 station 

in

 locations:
        location = locations[station]
        getBg().fillCircle(toPoint(location), 10) 
        startPoint = toPoint(location)
        getBg().drawText(station, startPoint)
        

for

 s 

in

 neighbours[station]:
            drawConnection(station, s)
            

if

 s < station:
                distance = distances[(s, station)]
            

else

:
                distance = distances[(station, s)]
            endPoint = toPoint(locations[s]) 
            getBg().drawText(str(distance), 
                   getDividingPoint(startPoint, endPoint, 0.5))
    refresh()
         


def

 drawConnection(startStation, endStation):
    startPoint = toPoint(locations[startStation])
    endPoint = toPoint(locations[endStation])
    getBg().drawLine(startPoint, endPoint)



def

 search(station):
    

global

 trackToTarget, trackLength    
    visited.append(station)  

# station marked as visited



    

# Check for solution


    

if

 station == targetStation:
        currentDistance = totalDistance(visited)
        

if

 currentDistance < trackLength:
            trackLength = currentDistance
            trackToTarget = visited[:]
        
    

for

 s 

in

 neighbours[station]:
        

if

 s 

not

 

in

 visited:  

# if all are visited, recursion returns


            search(s) 

# recursive call


    visited.pop() 

# station may be visited by another path 





def

 init():
    

global

 visited, trackToTarget, trackLength
    visited = []
    trackToTarget = [] 
    trackLength = 1000
    drawGraph()
    
makeGameGrid(7, 5, 100, None, 

"sprites/city.png"

, False)
setTitle(

"City Guide"

)
addStatusBar(30)
show()
init()
startStation = 

""




while

 

not

 startStation 

in

 locations:
    startStation = inputString(

"Start station"

)
targetStation = 

""




while

 

not

 targetStation 

in

 locations:
    targetStation = inputString(

"Target station"

)
search(startStation)
setStatusText(

"Shortest way from "

 + startStation + 

" to "

 + targetStation 
    + 

": "

 + str(trackToTarget) + 

" Length = "

 + str(trackLength))


for

 i 

in

 range(len(trackToTarget) - 1):
    s1 = trackToTarget[i]
    s2 = trackToTarget[i + 1]
    getBg().setPaintColor(Color.black)
    getBg().setLineWidth(3)
    drawConnection(s1, s2)
refresh()   

Highlight program code
(Ctrl+C copy, Ctrl+V paste)