As previously mentioned, you represent the game states as nodes in a graph that is run through step by step. You have to first uniquely determine the game states by certain criteria, such as the arrangement of the tokens on a game board. The rules of the game specify which are the possible successor nodes or neighbors for a specific game state. These are connected with the node by lines (edges). Since they are successor node, the edges have a direction from the node to its neighbors. Sometimes a node is also called a "mother" and its neighbors "daughters", and there is also the possibility that there is an edge from a daughter back to her mother.

Here you begin from a simple game graph for a game that is played either by a single person or by the computer alone. The single person game, or solo game, should be constructed so that there are no paths that lead back again. This ensures that you do not fall into a cycle that runs endlessly when moving through the graph. Such a special graph is called a tree [more...

Tree is a graph without cycles

]. You can identify the nodes in any order with numbers between 0 and 17. The graph has the following structure: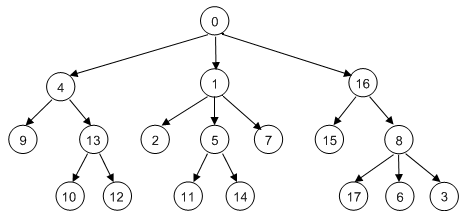 The tree should be saved as a whole in a suitable data structure. A list is well suited for this, in which the numbers of neighboring nodes are included as sublists where at the index 0 we find the list of neighbors of node 0, at index 1 is the list of neighbors of node 1, etc. If a node does not have a neighbor, its neighbor list is empty [more... Such a node is called a leaf of the tree].
As you can easily see, the following list represents the given tree

neighbours = [[4, 1, 16], [2, 5, 7], [], [], [9, 13],[11, 14], [], [], [17, 6, 3], [], [], [], [], [10, 12], [], [], [15, 8], []]
Identifying a node by a number is a trick that allows you to determine the neighbors of a node with a list index. The algorithm for finding the path from a certain node to one in the deeper tree structure is defined recursively in the function search(node). Formulated in pseudo code it reads:
search(node):
if node == targetnode:
print "Target achieved"
return
determine list of neighbors
run through this list and execute:
search(neighbors)
Additionally, the "visited" nodes are entered in the back of the list visited. If the goal is not reached earlier, the node is removed again from visited after all nodes were traversed, in order to go back to the original state [more... visited has the structure of a stack (last-in-first-out) ]. The start and target node number can be entered at the beginning of the program.
neighbours = [[4, 1, 16], [2, 5, 7], [], [], [9, 13], [11, 14], [], [], 
             [17, 6, 3], [], [], [], [], [10, 12], [], [], [15, 8], []] 



def

 search(node):
    visited.append(node) 

# put (push) to stack



    

# Check for solution


    

if

 node == targetNode:
        

print

 

"Target "

, targetNode, 

"achieved. Path:"

, visited
        targetFound = True
        

return


        
    

for

 neighbour 

in

 neighbours[node]:
        search(neighbour) 

# recursive call


    visited.pop() 

# redraw (pop) from stack



startNode = -1


while

 startNode < 0 

or

 startNode > 17:
   startNode = inputInt(

"Start node (0..17):"

)
targetNode = -1


while

 targetNode < 0 

or

 targetNode > 17:
   targetNode = inputInt(

"Target node (0..17):"

)
visited = []
search(startNode)

Highlight program code
(Ctrl+C copy, Ctrl+V paste)